Digital solutions to drive progress toward United Nations
Sustainable Development Goals by 2030
Focus on improving lives, fostering growth and environmental protection
Washington D.C., 14 June 2016 – The information and communication technologies (ICT) sector can play a vital role in helping achieve the objectives of the United Nations 17 Sustainable Development Goals (SDGs) by 2030, according to new analysis prepared for the Global e-Sustainability Initiative (GeSI) by Accenture (NYSE:ACN). This would involve deploying innovative digital solutions to improve the quality of people's lives, achieve equitable growth and protect the environment.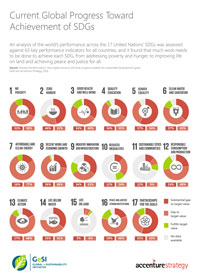 The GeSI report, #SystemTransformation: How digital solutions will drive progress towards the sustainable development goals, published in collaboration with Accenture Strategy, demonstrates the impact that digital technologies can have on shaping a more sustainable future, and highlights the opportunity for companies in the ICT sector to drive growth and competitiveness by investing in these initiatives. The report also identifies roadblocks to realizing the full potential of these digital solutions, including policy, regulatory and supply-side constraints, as well as barriers on the demand-side.
The report finds that every country has achievement gaps in more than half of the 17 SDGs, and many fall short on all. While the greatest strides are needed in the least developed countries and developing regions, the report demonstrates that action is equally needed in developed regions to decouple their economic growth from degrading the environment.
"GeSI is committed to leading the discussion about how the world should use digital solutions to address the challenge of meeting the SDGs," said Luis Neves, chairman, GeSI. "By making the SDGs GeSI's central framework for action, we have defined an implementation roadmap that we will continue to refine to guide our priorities up to 2030, and we commit to supporting our member organizations to make this exciting vision a reality."
Widespread deployment of digital solutions will substantially contribute to all three dimensions of development covered by the SDGs. For example,
Improving people's lives: 1.6 billion people could benefit from more accessible, affordable and better quality medical services through e-healthcare, while connected road vehicle solutions could save up to 720,000 lives annually and prevent up to 30 million traffic injuries (SDG#3)
Boosting equitable growth: Digital solutions like the Internet of Things and robotics can help bring almost USD 1 trillion in economic benefits to industries from smart manufacturing and smart logistics (SDG#9)
Protecting the environment: Digital solutions could enable greenhouse gas emissions reduction and drive market transformation for renewables, cutting carbon emissions by around 20 per cent in 2030 (SDG#13)
"At Microsoft, our mission is to empower every person and every organization on the planet to achieve more," said Satya Nadella, CEO, Microsoft Corp. "Through initiatives like GeSI, we believe digital technology can be applied to help solve society's most pressing challenges spanning education, health care, environmental sustainability and urban planning."
Timotheus Höttges, Chief Executive Officer, Deutsche Telekom AG, said, "It is time to understand that the digital revolution can be the answer to our global problems, therefore it is our #digital duty at Deutsche Telekom to shape this revolution for the benefit of future generations."
The report shows that by 2030, ICT sector companies could realize USD 2.1 trillion in additional annual revenue by 2030 from services that directly contribute to SDG achievement. This includes USD 400 billion per year from connecting an additional 2.5 billion people to communication services by 2030. Additionally, USD 1.7 trillion can be realized from digital solutions contributing towards SDG achievement, including e-Commerce (USD 580 billion), e-Work (USD 537 billion), smart buildings (USD 200 billion), e-Government (USD 86 billion), and online learning (USD 75 billion).
"Through strategic deployment of digital solutions, the ICT sector can act as the catalyst for helping the world's nations solve critical social, economic and environmental challenges," said Peter Lacy, managing director, Accenture Strategy. "The speed and reach of digital solutions allows them to spread quickly to reach people irrespective of location or income bracket, and they are designed to complement their use, so their uptake is rapid. Digital solutions also make good business sense, as they contribute to new business models, create markets and help solve some of the world's most pressing problems in innovative ways."
"Despite the promise and potential of global connectivity, we cannot lose sight of the fact that more than four billion people have yet to be brought online," said Houlin Zhao, Secretary-General of ITU, the UN's specialized agency for ICT. "Connecting the unconnected and bridging the digital divide must be addressed as an urgent policy priority requiring more innovative public-private partnerships and finance and investment models."
To fully utilize the power of digital solutions and realize these benefits for society, economy and the environment, three roadblocks to large-scale ICT digital deployments need to be removed. The report calls on policymakers, multilateral and donor organizations, NGOs and the private sector to take steps to address the following hurdles:
Political and regulatory constraints, particularly related to market entry and data security. Differences in regulatory requirements slow the deployment of sensors and smart technologies, as they increase the complexity associated with their development and use, thereby also adding to their cost.
Supply-side constraints, resulting from inadequate capital for infrastructure projects or for testing innovative digital solutions. Efforts to find capital for large infrastructure projects in developing and least-developed regions are undermined by a lack of investment security and lack of interoperable standards across technologies.
Demand-side barriers, such as low affordability and a lack of digital skills needed to use the new technological solutions. Underpinning this are gender-specific barriers, such as lower purchasing power of women, their lower literacy rates and a mismatch with cultural role expectations. The use of technologies is also impeded because they are often not translated into local languages.
Visit www.systemtransformation-sdg.gesi.org and www.accenture.com/systemtransformation for more information.
The GeSI #SystemTransformation report was developed with the support of Deutsche Telekom, ITU, Microsoft and Verizon.
About ITU
ITU is the leading United Nations agency for information and communication technologies, driving innovation in ICTs together with 193 Member States and a membership of over 700 private sector entities and academic institutions. Established over 150 years ago in 1865, ITU is the intergovernmental body responsible for coordinating the shared global use of the radio spectrum, promoting international cooperation in assigning satellite orbits, improving communication infrastructure in the developing world, and establishing the worldwide standards that foster seamless interconnection of a vast range of communications systems. From broadband networks to cutting-edge wireless technologies, aeronautical and maritime navigation, radio astronomy, oceanographic and satellite-based earth monitoring as well as converging fixed-mobile phone, Internet and broadcasting technologies, ITU is committed to connecting the world.
About GeSI (Global e-Sustainability Initiative) 
The Global e-Sustainability Initiative (GeSI) is a strategic partnership of the Information and Communication Technology (ICT) sector and organizations committed to creating and promoting technologies and practices that foster economic, environmental and social sustainability. Formed in 2001, GeSI's vision is a sustainable world through responsible, ICT-enabled transformation. GeSI fosters global and open cooperation, informs the public of its members' voluntary actions to improve their sustainability performance, and promotes technologies that foster sustainable development.
GeSI enjoys a diverse and global membership, representing around 40 of the world's leading ICT companies and partners with over 12 global business and international organizations such as the International Telecommunication Union (ITU), the United Nations Framework Convention on Climate Change (UNFCCC), the United Nations Environment Programme (UNEP), the World Business Council for Sustainable Development (WBCSD), the World Resources Forum Association (WRFA) – as well as a range of international stakeholders committed to ICT sustainability objectives to share and develop ideas, launch joint initiatives, and collaborate on a broad range of sustainability projects. These partnerships help shape GeSI's global vision regarding the evolution of the ICT sector, and how it can best meet the challenges of sustainable development. For more information, see www.gesi.org.
About Accenture
Accenture is a leading global professional services company, providing a broad range of services and solutions in strategy, consulting, digital, technology and operations. Combining unmatched experience and specialized skills across more than 40 industries and all business functions – underpinned by the world's largest delivery network – Accenture works at the intersection of business and technology to help clients improve their performance and create sustainable value for their stakeholders. With approximately 373,000 people serving clients in more than 120 countries, Accenture drives innovation to improve the way the world works and lives. Visit us at www.accenture.com
Accenture Strategy operates at the intersection of business and technology. We bring together our capabilities in business, technology, operations and function strategy to help our clients envision and execute industry-specific strategies that support enterprise wide transformation. Our focus on issues related to digital disruption, competitiveness, global operating models, talent and leadership help drive both efficiencies and growth. For more information, follow @AccentureStrat or visit www.accenture.com/strategy