NEW OVUM STUDY REVEALS AMAZON'S ALEXA AS MARKET LEADER IN THE AI ASSISTANT RACE
16 August 2018 LONDON
Competition in the AI assistant market is heating up. At present, Amazon's Alexa is winning the race, but Google Assistant is catching up fast and posing a threat to Amazon's supremacy (see chart below). Other contenders such as Siri, Cortana, and Bixby are lagging far behind, holding competitive advantages for specific use cases, but with minimum chances to win the fight when compared to Alexa and Google Assistant's fast-growing functionality and interoperability with third-party devices in the smart home sphere.
In terms of market strategy, Amazon and Google are following each other's steps. Both companies heavily rely on the support of their ecosystems of partners and developers to enhance functionality and reduce frictions that are impeding progress. Amazon wants to create a more engaging user experience by offering rich functionality and personalization features. Meanwhile, Google has focused on expanding Google Assistant's international reach, providing more language support and localization features.
Ovum's AI Assistant Tracker: 1H18  provides a dynamic tool to understand the strategy of key market participants in the AI assistant industry, rating the performance of well-known virtual assistants such as Alexa, Google Assistant, Siri, Cortana, and Bixby. The benchmark is based on a points system composed of six strategic criteria: skills, language support, user experience, device categories, innovation, and business models.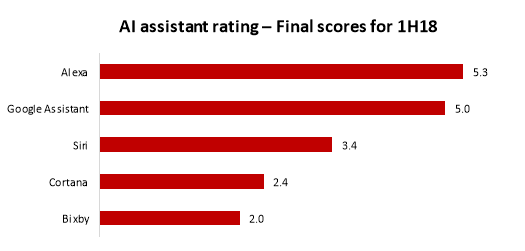 Source: Ovum's AI Assistant Tracker: 1H18
"At present, Amazon and Google are working to improve the functionality and reach of their virtual assistants to gain ubiquity across different platforms and environments. However, their ambition to gain market ground quickly has transformed the competition into a fight that focuses on which contender has the largest number of skills or capacity to support more languages and third-party smart home devices.
Instead, each player should focus on polishing the frictions that delay adoption, developing a truly engaging experience with useful skills – not worrying about the amount of tasks an assistant can perform, but rather concentrating on the quality of the skills that pass the certification process.
It is early days to declare an absolute winner in the AI assistant race. In the meantime, the battle will intensify, focusing not only on the details, but also looking at the big picture that is to create the best user experience as possible and sustain it over time as AI matures," said Mariana Zamoszczyk, senior analyst in Ovum's Consumer Services team.