Omnitron Launches 10/100/1000 to 10G Fiber Media Converter
Irvine, CA – March 9, 2016 – Omnitron Systems (www.omnitron-systems.com), a leading provider of fiber connectivity products, today introduced the new iConverter® 10GXT, the first 10/100/1000 RJ-45 to 10G fiber media converter.  The iConverter 10GXT enables connectivity between network equipment with 10G fiber ports and laptops, workstations, test equipment and switches with 10/100/1000 RJ-45 ports.  The 10GXT conforms to 10BASE-T, 100BASE-TX, 1000BASE-T, 1000BASE-X and 10GBASE-R specifications, and supports 1000BASE-X SFP, 10GBASE-R SFP+ or 10GBASE-R XFP transceivers for standard or CWDM wavelengths.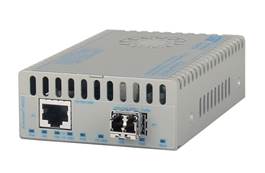 Auto-negotiation and auto-crossover on the 10/100/1000 RJ-45 port simplifies installation, and fault detection modes can be configured to provide fault identification and isolation for easy troubleshooting of network faults. The iConverter 10GXT is available as a compact, unmanaged standalone unit, and supports jumbo frames up to 10,056 bytes.
The iConverter 10GXT is made in the USA, backed with free 24/7 technical support and a lifetime warranty, and supports an industrial temperature range of -40 to 75 degrees Celsius.
The 10GXT is the latest member of the iConverter product family of media converters (including several 10G copper-to-fiber and fiber-to-fiber media converters), CWDM multiplexers and T1/E1 multiplexers.
About Omnitron Systems
Omnitron Systems provides fiber connectivity solutions that extend network distances, enable copper and fiber network integration, and expand the capacity of fiber infrastructure.   Omnitron's media converters, CWDM multiplexers and T1 multiplexers are deployed in enterprise, government and service provider networks worldwide.  For product and reseller information, contact the sales department at Omnitron Systems by phone at 800-675-6410 or 949-250-6510, or by e-mail at sales@omnitron-systems.com.